It's that time of year again. I don't know about you, but if you are from the South, especially Georgia like myself, than this time of year is known to be sacred. I have only had the honor of making the trip to Augusta National for The Masters Tournament once. Thanks to my awesome brother-in-law, who has yearly passes, Matthew and I made the trip in 2010 on Sunday to watch Phil Michelson win it all.
It's hard to describe how beautiful the landscape truly was. The vibrant color of the azaleas and the breathtaking hues of the perfectly manicured greens looked like a painting. I was tempted to touch everything just to make sure it was real. We parked ourselves right at Amen Corner for the entire day while I bathed in SPF 100.
The only fall back for going during the actual tournament is that you cannot bring in a camera, and we were too impatient to stand in line for the one picture you can pose for. After all, I would rather spend my time standing in line for the delicious barbecue, egg salad and pimento cheese sandwiches. Ohhhhh, the yummy memories. So, until the ticket rotation gets back our way we can just celebrate with our own Masters party.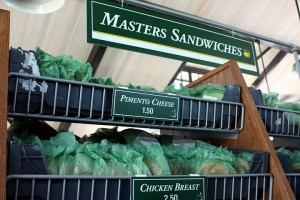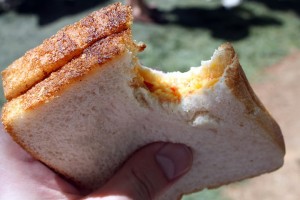 Below is a spicy version for those of you who, like my fiance, need to add hot sauce to everything.
Recipe via
eatocracy
Pimento Cheese
Makes about 3/4 gallon
4 cups shredded cheddar
4 cups shredded Havarti
1 1/2 cup cream cheese
1 1/2 cup bread and butter pickles, minced
3/4 cup pickle juice
2 teaspoon cayenne pepper
2 tablespoons Tabasco hot sauce
1 cup pimentos, minced
3/4 cup mayonnaise
salt and black pepper, to taste
Combine cheeses, mayonnaise, pickle juice and Tabasco in food processor and pulse until combined. Stir in the rest of the ingredients. Season to taste with salt and black pepper.
Now, we need to accompany this delicious treat with a cocktail, of course!
What sounds more Southern than The Azalea Cocktail? Well, nothing does and thanks to
CDKitchen
we can share with you this sassy recipe.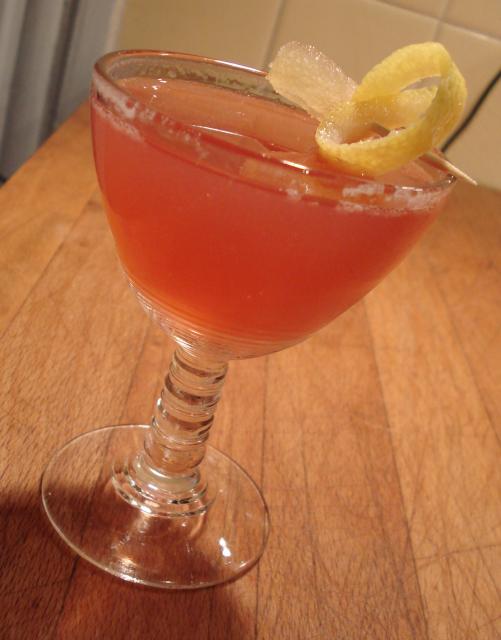 We may or may not have taste tested this a few times this week :)
Azalea cocktail
Makes one drink
1 part lime or lemon juice
1 part canned pineapple juice
3 parts gin
Grenadine to color pink
Mix in cocktail shaker with ice and shake.
Now, go throw on your green, gather some friends this weekend, and visualize yourself at Augusta National sitting under the striped umbrellas sippin' cocktails and taking in all its beauty.